Dear Voyager,
One of the trends the travel industry is seeing right now is people traveling in small groups --- this could be extended family, or a group of couples or single friends.
Group travel can be lots of fun but putting it together can be a challenge. There are many considerations, and you are dealing with different budgets, tastes, and ideas. Really the only way to arrange a group is to let your travel advisor handle it for you.
Choosing where to go is also a challenge --- but wine country usually suits everyone, and it doesn't get better than the Napa Valley in California. And Montreal is making a comeback! The bustling francophone city has a lot going on and is a great destination for foodies.
Another destination that is hot right now is Iceland --- breathtakingly beautiful, fun –and you might see the Northern Lights! Or you can all hang out on the beach all day and part at night in Tamarindo, Costa Rica.
Let's discuss putting your group together!
For more information on traveling with a group of friends click here .
Sincerely, A Great Agency: Cruise, Resort, or Flights.
Hello@AGreatAgency.com
+1 (410) 885-4440
http://PureJoyMiles.com
MORE TRAVEL INSPIRATIONS
SEPTEMBER 2023
TAKE IN A CRISP BREATH OF FRESH AIR.
IT'S TIME TO LIVE IT UP ON NORWEGIAN VIVA!
The rugged beauty of this untouched wilderness sets the stage for every unforgettable moment. Take in the breathtaking views of glaciers as you travel in luxurious comfort aboard one of three award-winning ships.
The all-new Norwegian Viva is now sailing! Explore the greater wide open aboard the most spacious new cruise ship at sea with the most outdoor deck space and Norwegian's most spacious accommodations to date.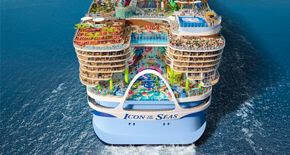 Royal Caribbean International
Reserve your trans-Atlantic flights through AmaWaterways' and enjoy incredible savings with their AirPlus Offer's incredible flat rates on select 2023 and 2024 sailings before September 30, 2023! With airfare starting as low as $899 per person, enjoy high-quality flights...
Cruise to Caribbean and discover the cliff-diving, breeze-swaying, sand-between-your-toes, no-worries pace of island life. Hundreds of years of history have left jungle ruins from ancient times and vibrant colonial towns with brightly painted buildings reflecting a fascinating history.